Beverage Donkeys- A Lot of Love and a Cheers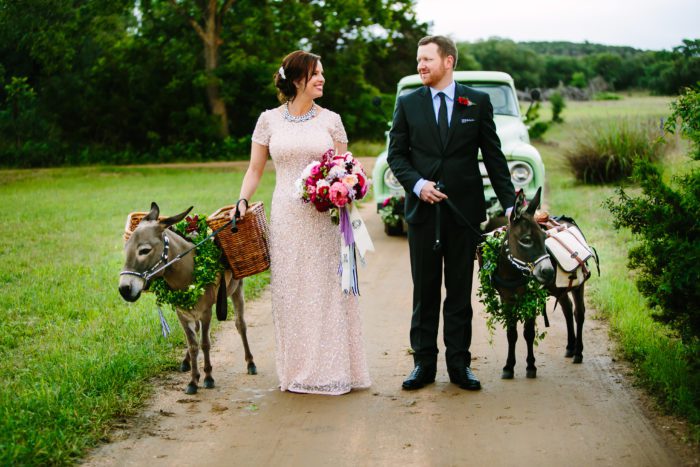 Beverage Donkeys, or 'Beer Burros' as some places call them, are becoming the wedding and event charm that you didn't know you needed, but now you can't live without.  For Pecan Springs Ranch this is nothing new, but rather an option that this Austin venue has had for over two years.  The sweet pair are more than just the occasional party guests, they're a part of the family that owns Pecan Springs Ranch.  As one of the only family owned and operated (with a few partners) wedding and event venues in Austin, they chose to take in the cutest pair of miniature donkeys that you'll ever see, and make them a permanent part of their family.  Their debut was at Paige and Matt's wedding, the daughter and son-in-law of the owners of Pecan Springs Ranch, Dubb and Judy.
The story of Sassy and Opie, Pecan Springs Ranch's Beverage Donkeys, is just as sweet as they are, and a tale as old as time when it comes to donkey best friends.  In the beginning they came from a show donkey ranch at 7 years old to be trained by Sue De Laurentis of Red Horse Ranch in Dripping Springs, Texas. While being trained to carry beverages in their baskets and handle crowds, these two sweethearts found friendship with each other after initial donkey dreams of being in shows didn't pan out. What did come to fruition, however, was a life together under the trees with a loving family where they'll spend the rest of their 30+ years.
Sassy and Opie are Mediterranean Miniature Donkeys that are occasionally referred to in some places as a Bethlehem Donkey because they have a cross image on their back in their fur.  Some are used as pack animals or trained to pull carts, but their sweet character and loveable personalities also make them great pets if you have the space for them to live a happy life, just like Sassy and Opie. Since they are part of the family, they stay exclusively at Pecan Springs Ranch, but are an option for your wedding or event at their home.
Their story has just started, but they typically bond for life. When a neighboring donkey comes to say hello Sassy seems smitten and Opie refuses to look at him! It's early to say, but if there's a wedding in their future they have the best Austin wedding venue in their backyard. Let's hope that Opie finds the courage! Book them for your next event to charm your guests with Beverage Donkeys, then let Opie know that it's time for him to charm Sassy!