Here's what happens when a wedding coordinator gets married!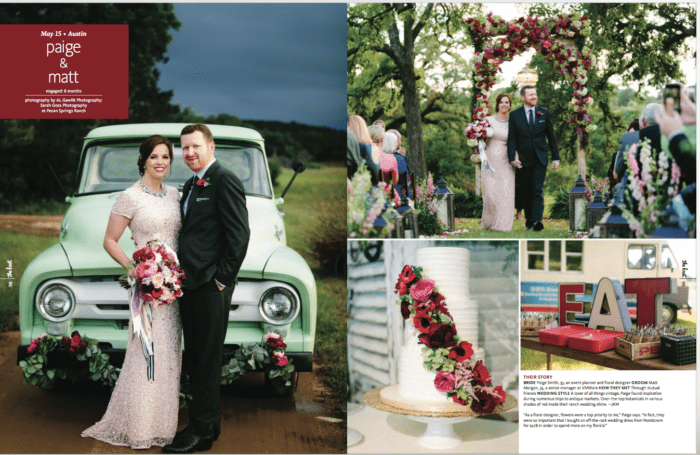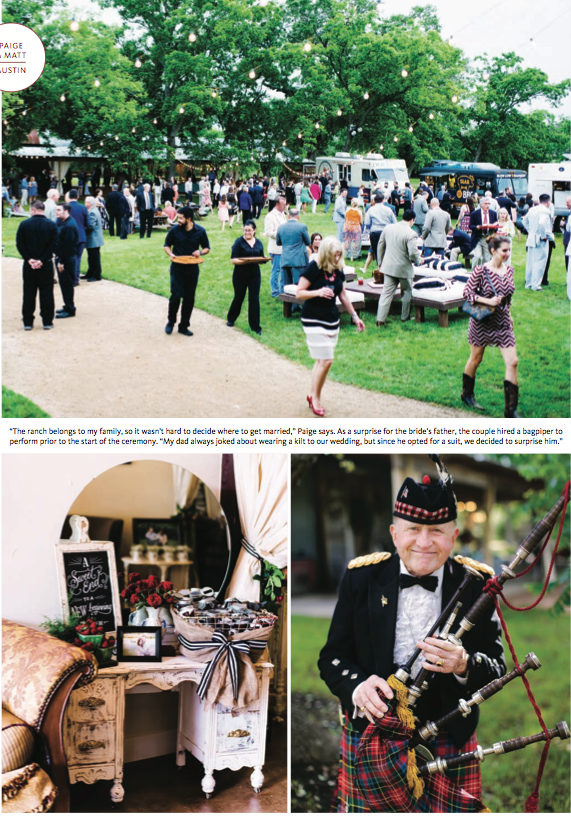 Pecan Springs Ranch had another real wedding featured in The Knot Texas that is on the stands right now! This one Pecan Springs Ranch was very involved, since it was one of the partners wedding, Paige Smith of Pure Love Style, who is a florist and coordinator for Pecan Springs Ranch and my daughter.
It is hard to plan a wedding when weddings are your business, there is no doubt about that and we had 2 weddings following Paige's and lots of rain! Yes I did have to pay for late night pickups. Paige did get married on a Friday, since we did not have any Saturday's left for 2015 after she was engaged in Sept 2014. I will say Friday's are a great alternative to a Saturday wedding, in that you can have a whole weekend of fun with your guests. This one started off with a welcome party at Deep Eddy Vodka, with Salt Lick as the caterer and Cupcake Bar providing desert.
Now for the big day, we had 4 food trucks, Slab BBQ, The Peached Tortilla, Dock & Roll, Uncle Louie G's Italian Ice and the Airstream Photo Booth. Keep in mind Paige was very involved, of course as not just a bride, but as the coordinator and doing the floral design and styling. Brittany, who works with Paige in coordinating, floral and styling was assisting her and stepping in as lead on the wedding day. Kari Shelton with The Flower Girl and her team took what Paige had designed for floral and created them with input from her. As you would imagine the floral was over the top, to manage this in the budget, she went with a very nontraditional dress off the rack at Nordstrom's.
We were watching the rain chances on Accuweather and we went ahead with the outside plan. On the morning of the wedding it was cloudy, rain chances were there, but not at time of wedding. Fortunately for us, it did stop raining, but at Pecan Springs Ranch we do have numerous bad weather back up plans even for a large crowd.
This wedding was also the first appearance of the "drink donkeys", which have been a huge hit at Pecan Springs Ranch weddings. A crazy thing happened with the donkeys, their new pack saddles were stolen two days before, which were custom made due to their size, but the saddle maker overnighted us some so we had them for the wedding! This wedding was also the first time that Big Dog Pyro had been out. They did a wonderful job with a confetti canon inside, it was a surprise for all the guests. When Paige and Matt drove off in Amy's vintage truck of Al Gawlik Photography they had a wonderful surprise of fireworks as they left from the front of the venue.
There were many unique decorations and ideas that we incorporated into the event. For their sign in book, they decided to go with a very nontraditional Yeti cooler which everyone got to sign! The theme for the day was modern vintage, French flea market, eclectic, equine accents and Round Top. Paige did use a lot of containers that were personal items, such as the hat my Grandmother wore to my parents wedding, it had a Peony on it, some trophies of my Dad's were filled with floral, an old cash register from his store was filled with floral, trophies of hers and her husbands were used also. The Flower Girl did a wonderful job of executing the design on the floral. The linens were rented from La Tavola, who was wonderful to work with. Paige described her colors as shades of lipstick, which were red, burgundy, pink, coral & blush.
Do we remember it all, not really, but I have decided that is what photos and video are for! The funny thing is Paige wanted a small low-key wedding or elopement, Matt her husband wanted a wedding or as he said a "big party"! Did that happen, we would like to think so and everyone was still speaking at the end of the night. Most importantly they were married at the end of the day!
The vendors Paige used are all on our list and absolutely fantastic to work with. Here is a full list of them:
Photography: Al Gawlik Photography & Sarah Goss Photography
Videography: Adam Grumbo
Coordinator: Pure.Love.Style
Floral: Pure.Love.Style & The Flower Girl
Hair: Weddings by Celissa Rae
Makeup: Celia Alcantar
Linens: La Tavola
Rentals: Bee Lavish, Whim Rentals, Pecan Springs Ranch
Lighting: FILO Designs
Catering: Peached Tortilla, Dock N Roll, Slab BBQ, Uncle Louie G's,
Cake: Simon Lee Bakery,
Other desserts:
Brides Grandma
Music: Ceremony-Musical Discovery, Pre Ceremony-Bag Piper Nick Classen, Cocktail Hour-Fog & Bone Bank, Reception-Look No Further Entertainment,
Photo Booth: Airstream Photo Booth,
Fireworks: Big Dog Pyro,
Drink Donkeys: Pecan Springs Ranch