Steps to the Wedding has reached the most exciting point! Lauren and Brent  finally reached their special day and said their vows in front of their closest family and friends.  Their Austin Wedding at Pecan Springs Ranch incorporated soft hues of blush colors and lots of special moments right from the start of their ceremony at the outdoor hearth, to their reception celebration using the indoor space and its porch decorated with strings of lights.
Cozy places at Pecan Springs Ranch are in special pockets all around the

property, but the areas reserved for each side of the wedding party to get ready hold special memories for the couple. The importance of your own space helps the wedding party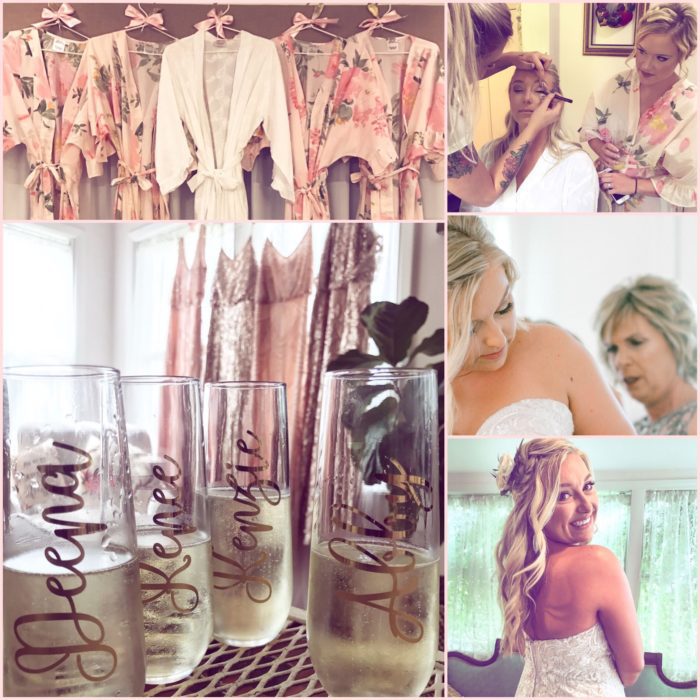 create unique memories while getting ready together. Lauren and her ladies got ready in the bridal house that's centrally located on the property. Sparkling bright walls, sheer white flowing curtains, a charming kitchen and various pockets of seating areas compliment the dressing area in the back of the house where light pours in from every window. It's special turquoise couch has served as the place of anticipation for many different bridesmaids, time and again, while the bride gets into her white dress.
On Lauren's day, set against the airy background of the bridal house, she and
her Dad shared their first 'moment.' The special one that brides both look forward to and brings on occasional tears. There's nothing like the moment when a father sees his daughter dressed for the new life she's about to commit to, even if he still sees her as his 'little girl.'
In the few moment before their walk down the isle, Lauren and Brent traded special gifts with each other to represent the day. Lauren gave Brent a family Derringer gun. It was used to commemorate the day since she was taking his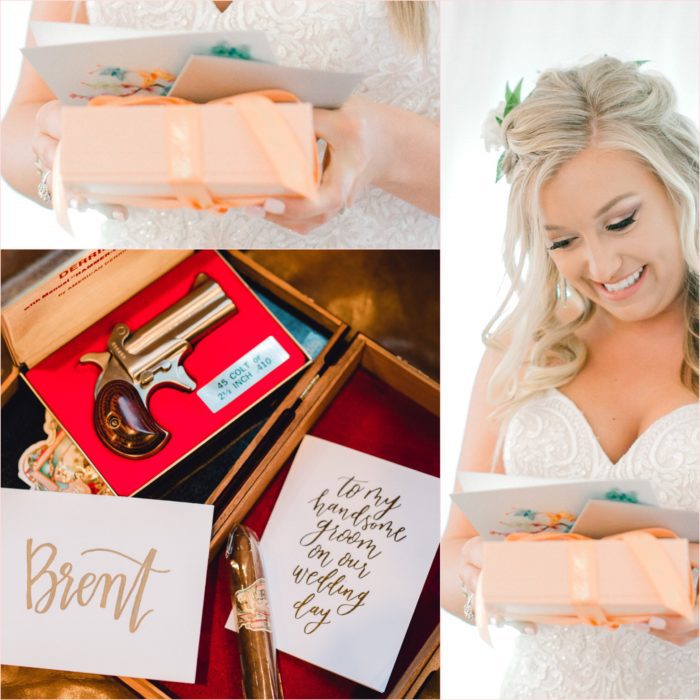 incredibly similar last name, Deringer. For Brent's special gift to Lauren, he gave her a diamond necklace from Menagire.
Unlike many couples that choose to have the first look between just the two of them, Lauren and Brent chose to share the first moment they saw each other before their vows with their guests by waiting until she walked down the isle. After Brent escorted his Mother, Diane, to her seat, the rest of the bridal party entered and Brent waited to finally see Lauren in her wedding dress.  As Lauren recalls, "We wanted the first time we saw each other to be with our loved ones. We both cried, but were so excited as well!"
While they adhered to original tradition of the 'first look', they took the traditional service their pastor sent and added their own elements. To represent unity they planted a tree and even did the old celtic hand-fasting ceremony (something you'll hear about in our next blog when we highlight popular things for 2018 weddings). As for their vows, they used a poem that detailed their promises to each other and their future together:
"I ___ choose you 
again and again
at the start and finish
of every single day
no matter the season
no matter the year
I choose you
to struggle and succeed with
to fight and make up with
to love and grow old with

I choose you
knowing there are still trails
we must travel
knowing there are mountains
left to climb
I choose you
to always be by my side"
-Tyler Kent White
Following their vows, the couple had their first dance to "One Woman" by The Randy Rogers Band. However,
that wasn't the only show stopping moment, and they wouldn't want it that way, either.
An incredibly beautiful, and amazingly palpable, part of their wedding was their unified focus on incorporating their family. They know who has their back, who loves them unconditionally, and who shaped them into the people that made them perfect for each other as a result. While many couples acknowledge family, it's rare to experience it in the way that Lauren and Brent made it an intricate part of their wedding celebration.
In a sparkling blue dress, Brent's Mom, Diane, took the floor with her son, the groom, for the traditional mother/son wedding dance. Spinning her around the floor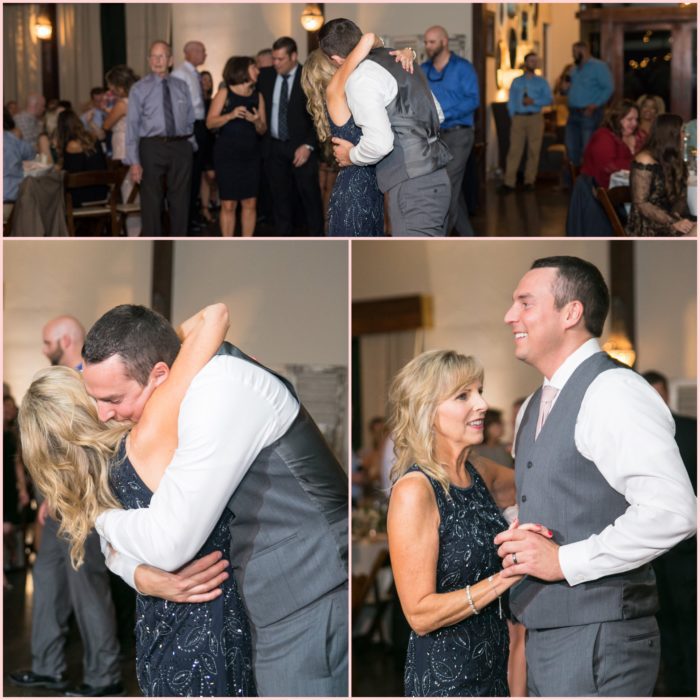 at Pecan Springs Ranch, Brent and his Mom danced to 'Mom' by Lucero. In the moments captured during their dance, we see their unwavering love for each other.
For Lauren's dance with her Dad, Rocky, their special song was  'Dance with my Daughter' by Jason Blaine.  Lauren smiled, laughed, and
clutched him tearfully. The photos of their special time easily show the importance of this memory for both of them, along with the strong bond they share.
Following the father and bride dance with her Dad, Lauren had an emotional dance with her Grandfather who'd lost his wife, Lauren's Grandmother, earlier this year. They honored her memory in a special way with a tearful dance to a song Lauren's Grandmother regularly sang; Johnny Cash's version of "You are My Sunshine."
Theme tables are on the rise and often feature something the bride and groom share between the two. While they vary from candy in excess, to comfort foods, or even massive dessert tables, Brent and Lauren chose to have a different kind of featured table. According to Lauren, "We had a table to memorialize our family members that are no longer with us."
While the wedding was definitely full of sentiment, our couple loves to have a great time as well. Dancing with friends until late at night, chowing down on BBQ from CJ Catering, and sharing the traditional first bite of cake, they made sure to have a complimentary balance of meaningful sentiment mixed with the happiness of sharing their new life commitment.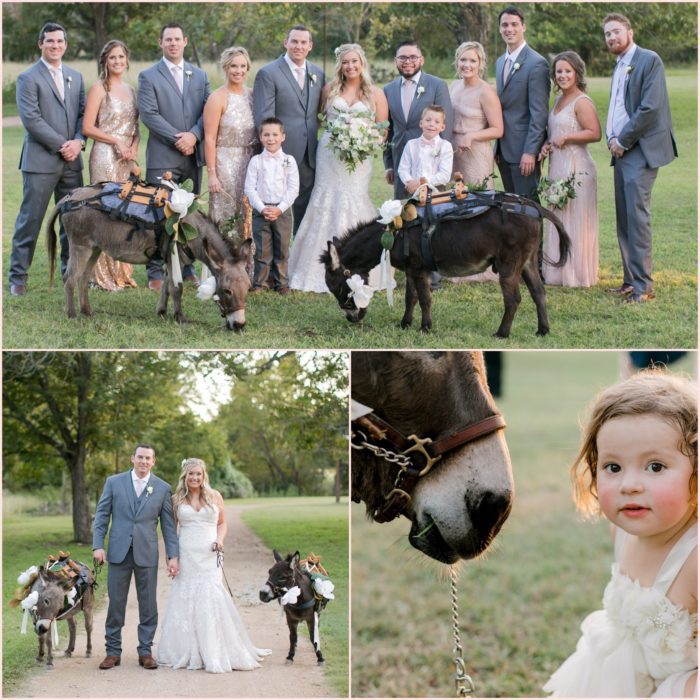 Unable to pick just one moment as the best, they stressed the importance of enjoying it all. If you're walking down the isle, Lauren says, "Relax and don't stress! The day comes and goes so quickly, so enjoy every moment of it."
Is a video more of your style? Here's more of Lauren and Brent's special day!
If their Austin wedding photos and video are any indication, the happy couple took their own advice. They made the wedding their own, honored family, and highlighted the joy of the day. While they can't pick just one important moment, what was yours from their wedding?
A special thanks goes out to Janeane Marie Photography for the use of her images, Wild Poppy for wedding day's incredible flowers, Kate Rose Creative Group for planning and design, and Pecan Springs Ranch for the gorgeous backdrop and the seamless work with each vendor.
Did you miss any parts of Lauren and Brent's Steps to the Wedding? Check out our archives to get to know more parts of their special story mixed with some wedding tips!
For those saying 'I do' in 2018, exciting traditions have emerged from 2017! Join us in our next post as we highlight a few that you'll be sure to see!