Steps to the Wedding – Brent+Lauren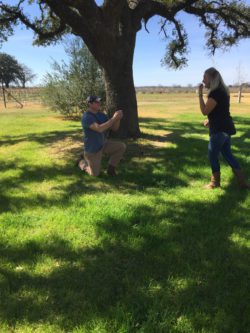 Steps to the Wedding for an Austin wedding aren't generally taken lightly since they lead to the ultimate commitment to each other and a proclamation to society as a whole.  On February 16th, 2016, just two weeks back from being stationed in Dubai, Brent asked Lauren, at a vineyard beneath an Oak tree, the question that solidified their future together.
Their meet-cute might sound familiar in its beginning, but the years after have been anything but easy. Meeting through a friend at their mutual job they became fast friends while both were in San Marcos attending Texas State.  Things progressed as they do when something is meant to be, but Brent's decision to join the Navy in 2010 took him to California, leaving Lauren in Texas to finish school.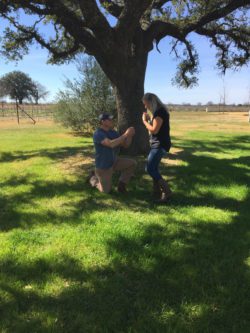 In that pivotal moment they had a choice to make, and they chose each other.
A long distance relationship followed for years. Making as many trips back and forth as their situation and finances could muster, they squeezed in time and visits to see each other. The other moments that would stitch together their commitment were filled with Facetime, calls, and texts.  Doing life long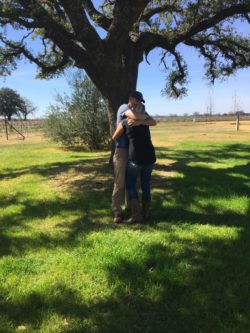 distance is a challenge to any relationship, but they refused to let that dictate their future. When they were asked what kept their commitment solid, Brent said he loves Lauren for "always looking forward no matter what's thrown her way, her choice to be positive, and her ability to find the good in people."  While Lauren said she adores Brent for "being very giving and caring with a sense of humor that keeps her on her toes."  The unspoken, though obviously shared character qualities of both, are loyalty and perseverance.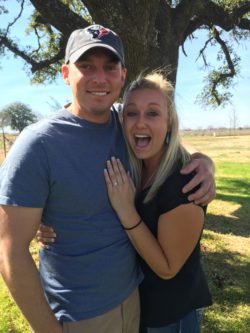 This autumn is when they say their mutual  "I dos," but until then they're allowing us to come on this special ride with them. They'll be sharing their steps to the wedding as they plan their special Austin wedding and make design choices that will make Pecan Springs Ranch uniquely their own on that October Saturday. However, one decision has already been decided; the Pecan Springs Ranch Beverage Donkeys, Sassy & Opie, will be a special part. That decision alone shows they're off to a great start!