Steps in the wedding that are routinely mentioned relate primarily to planning, but what about the decisions that impact it on a personal level: the wedding party, the celebratory showers, and parties? Every wedding varies simply because of the people involved. After speaking with our bride, Lauren, we get an insight into who was involved in the wedding, and the festivities that escalated the excitement around their impending nuptials.
Q. Who makes up the wedding party, and what relationship to you and Brent are those involved?
A. "We wanted to keep our wedding party small and intimate so we chose close people to us.
Best Man- Stan (Groom's Brother)
Groomsman – David (Groom's Cousin)
Groomsman – Josh (Groom's college Friend)
Groomsman- Javi (Bride & Groom's college friend)
Usher – Anthony (Groom's Cousin)
Usher- Cole (Bride's Cousin)
Maid of Honor – McKenzie (Bride's Sister)
Bridesmaid- Abby (Bride's Friend from Elementary School) 
Bridesmaid – Renee (Bride & Groom's College Friend)
Bridesmaid – Deena (Bride's College Friend)
Brides Dude – David (Bride's College Friend)
Ring Bearers- Jack & James (Bride and Groom's Nephews)
Flower girl – Tinley (Bridesmaid Abby's daughter)"
 Q. How did you approach the wedding party's attire? What will the dresses be like (same cut or not, palette of colors or singular) and how involved were the girls in the final decision? Was your approach to let them choose aspects or did you want a uniformed approach?
A. "Each Bridesmaid has a different dress. They are floor length beaded gowns in blush and rose gold. All the girls shopped together and we picked a few we all liked, then I chose to let the girls pick their favorite dress. I really wanted each girl to feel comfortable and confident in her dress, so I didn't feel it was necessary for them to be matching."
Q. Customarily, the wedding party receives a special gift from the bride and groom. Lauren, what items did you and Brent choose for your wedding party as a sign of love and gratitude for participating in your special day?
A. "I got each of my bridesmaids robes to get ready in from Plum Pretty Sugar, Kendra Scott nail lacquer to match their dresses, and Glassy Baby (a hand blown glass candle holder out of Seattle, WA that donates money to different charities for each votive purchase). We also had a "Color Bar Party" at Kendra Scott where each bridesmaid was able to design her own wedding earrings. On the groom's side, Brent got each of his groomsmen a custom Pilsner glass and custom 50-caliber bullet bottle openers.
Q. We covered your engagement party in a previous post, but what traditional wedding showers did your wedding party and family embrace in celebration of your upcoming nuptials?
A. I had two wedding showers. My future sister-in-law, Shellie, and Brent's Cousin threw the first shower, held in Austin. It was a lovely shower where Brent's mom gifted us with our Kitchen-aid mixer, and my mom gave us an amazing "Beer Burro" pillow to symbolize Opie and Sassy, the "Beer Donkeys" that we'll be using at our venue, Pecan Springs Ranch.  Our second wedding shower was held in San Antonio and was thrown by my childhood best friend and bridesmaid, Abby, along with her mother, Sandra, at the Olympia Hills Golf Clubhouse. We played games and ate great food. At this shower my Mom, Joni, gifted me with a wedding present countdown board. It was similar to an advent countdown, so there was a gift to unwrap everyday until the wedding! Both showers were amazing and I was extremely lucky to be surrounded by so many people that love Brent and me!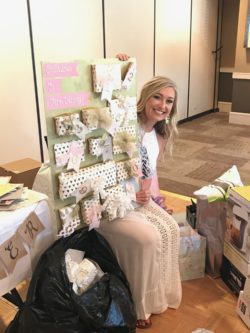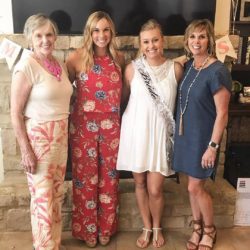 Q. Over the years the Bachelorette and Bachelor parties seem to have evolved (at least in some respects) into a weekend to not only celebrate the bride and impending marriage, but as a bonding trip. What were the bachelorette and bachelor parties like for both you and Brent?
A. The Bachelorette Party was thrown on the Guadalupe River. My sister, McKenzie, and all of my bridesmaids hosted the weekend. In total, we had about 15 girls come out to celebrate by riding tubes down the river, followed by taking a party bus called "Ride the Bull" to downtown New Braunfels to have dinner at Downtown Social. After dinner we went out to celebrate at the local pubs. In contrast, Brent's Bachelor Party was at a lake house on Lake LBJ. His brother, Stan, hosted the weekend where all of the guys enjoyed swimming, beer, and uninterrupted football games.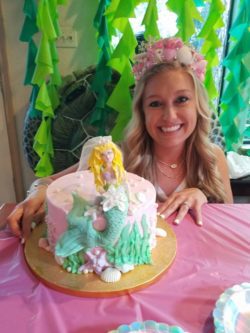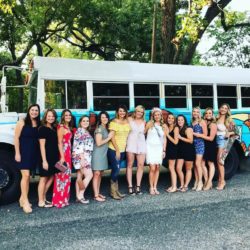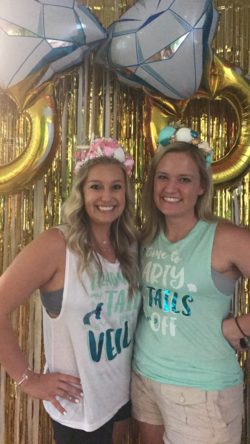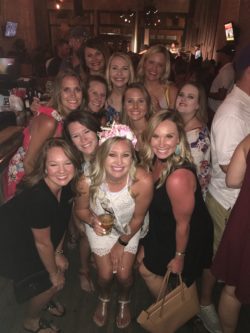 Ideally, planning for a wedding is much more than logistics. The people you invite to share in the special time can have a profound impact before you say 'I do'. In Lauren and Brent's case, they had a solid support system, something that makes an impending wedding all the more exciting!
Stay tuned for the finale of this love story! Just last weekend our couple said "I do!"