We are so fortunate to have several wonderful videographers on our vendor list and Adam Grumbo has shared a fantastic video he did of Pecan Springs Ranch and of Amanda Gawlik's wedding in November. Amanda is the sister of one of our fantastic photographers Al Gawlik Photography. The video does show  Pecan Springs Ranch in August and then Amanda's wedding was in November. Some of Amanda's amazing vendors were Paige Smith of Pure Love Style for her floral, Benjamin Garrett for photography, Sara Goss for photography and Verdes for catering and Ross Phillips of Look No Further Entertainment as the DJ. The wild turkeys did make an appearance at Amanda's wedding also during the ceremony, but they were very respectful and kept quiet.
As you can see from the video, our landscaping is very important to us as is our indoor facilities. In the winter, we do over seed the grass with a winter rye grass for some green and the flowerbeds are kept cleaned up of any frozen plants and mulched for a nice clean look. This year our crop of wildflowers should be quite beautiful, of course depending on Mother Nature.
Some of our brides recently did have to move their ceremony and reception indoors, which with Pecan Springs Ranch, you do have the option. Of course it is not always what you would want, but at least you do have a built in bad weather back up plan. Our wall of windows that look out on the property has worked very well of bringing the outdoors in, when weather does not permit ceremony to be outside.
In February we will be celebrating our two-year anniversary of being open. We have met so many wonderful and caring couples over the past two years and look forward to meeting many more. It's always nice to hear from some of our past couples. We try to make sure that each couples day is trouble free and runs smoothly from the venue side of your wedding.
Sit back and enjoy watching Adam Grumbo's video!

Floral by Paige Smith of Pure Love Style

Photography by Benjamin Garrett Photography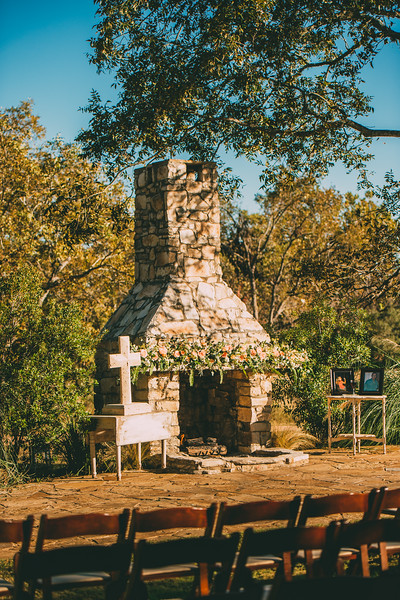 Fireplace Ceremony Site
Wonderful photos from the wedding!